>
Bird Watching Break 7th – 10th September 2021
Bird Watching Break 7th – 10th September 2021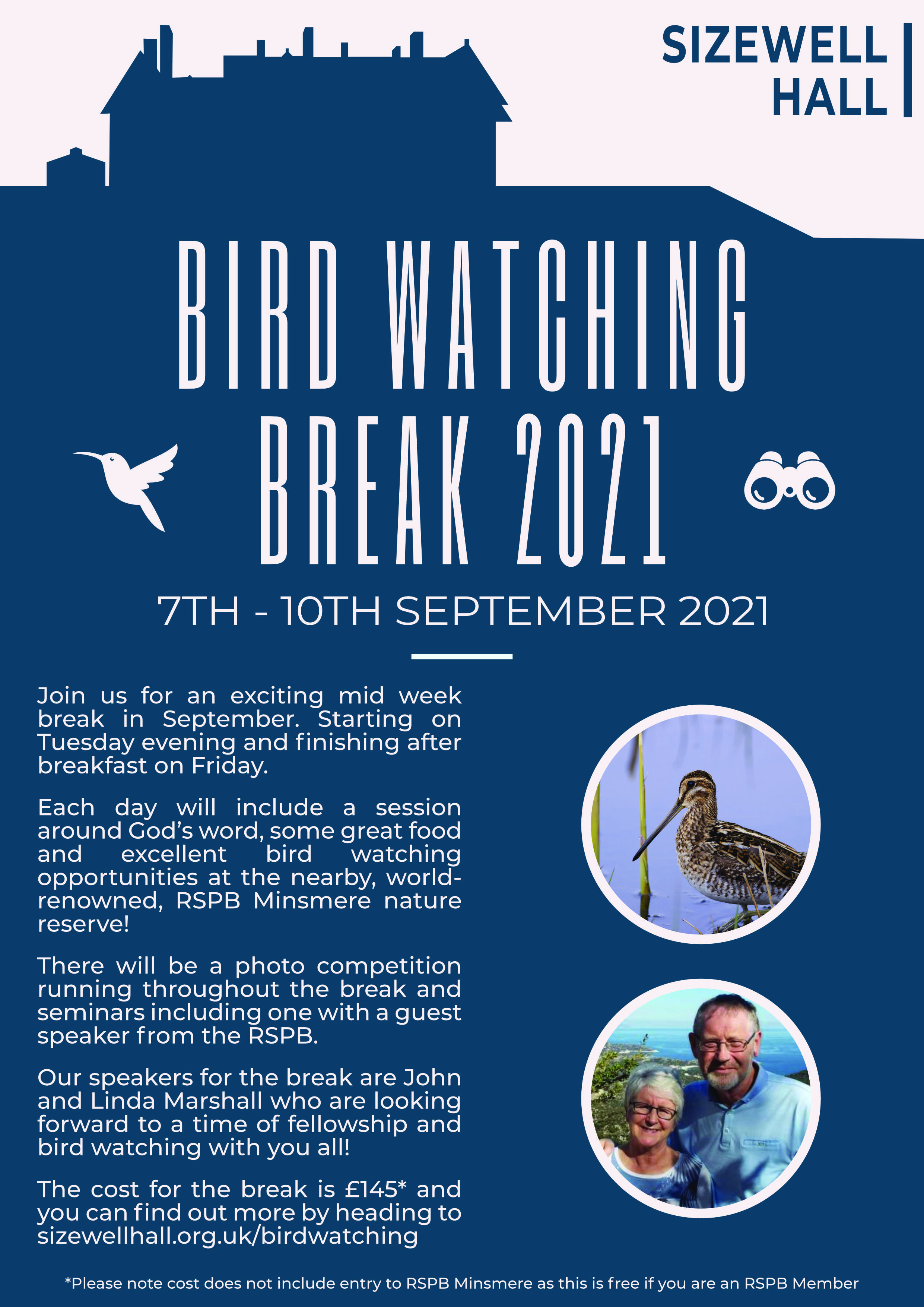 Join us for an exciting mid-week bird watching break this September!
Starting on Tuesday evening and finishing after breakfast on Friday, this is a fantastic opportunity to meet like-minded people and share in a time of fellowship together.
Each day will start with a hearty breakfast, followed by a session with worship and a thought for the day.  The middle of the day is flexible, allowing for plenty of time to pick up your provided packed lunch and take advantage of the excellent bird watching opportunities at the nearby, world-renowned, RSPB Minsmere nature reserve. RSPB Minsmere was voted Site of the Year in the Birdwatch Magazine/Birders' Choice Awards for 2019 and is only a short drive from Sizewell Hall. An RSPB membership is recommended as this will give you access to Minsmere for free, however, this isn't required and you will be able to pay £9 for entry to RSPB Minsmere as a non-member.
Before dinner, there will be the opportunity to take part in workshops & seminars. Including one with a guest speaker from RSPB Minsmere. There will also be a photo competition running throughout the break. There will be prizes on offer for the best photos, and it will serve as a great way for us to keep track of all the species seen. The Sizewell Book Shop will be open at various times throughout the break, where you can access inspirational literature, gifts cards and lots more.
Our speakers for the break are John and Linda Marshall, who are looking forward to a time of fellowship and bird watching with you all. Both Linda and John qualified as primary school teachers in the 1970s. From 1980 John spent twenty-two years in itinerant Christian ministry initially with Scripture Union, then as a Bible teacher with the Saltmine Trust. During this time Linda mixed working with elderly people living with dementia along with keeping the home together. For the last twelve years before retiring in 2014, John pastored a church in Stafford.  They have been coming to Sizewell Hall every year for over thirty years and like to relax by bird-watching in the UK and overseas…but stress that they are just keen amateurs!
The cost for this all-inclusive break is £145 per person*
*The cost of the break does not include entry to RSPB Minsmere as this is free to members. Bed linen is provided, but please bring your own towel.
To book your place please download the booking form by clicking here
Please pass on a copy of our flyer to friends and family you think may be interested!
You can download a pdf copy of the flyer by clicking here
If you have any further questions about the break please contact Chris our Bookings Co-ordinator:
or call 01728 830715 (and select Bookings)