Donate
We are grateful to God for His people's faithfulness to the on going work of Sizewell Hall Ltd.
Please use the secure portal through this page to make a donation or payment online.
Or to make payments by cheque please make it payable to Sizewell Hall.
Post to:
Sizewell Hall
Sizewell
Leiston
IP16 4TX
Please indicate on the back of the cheque what the payment is for.  Thank you!
To download a donation form, please click here, fill in the form and send it to Sizewell Hall office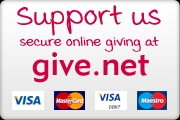 To make a payment online, please click on the link below which will take you to our page on Give.net, which is secure. You can also Gift Aid your gift through this portal.
You can also use Give.net facility to set up regular donations to Sizewell Hall.
Give.net is powered by Stewardship for more information go to https://www.give.net/
Thank you!
Click here to make a donation